A History of Cable and Wireless
From its beginning in the 1860's, Cable & Wireless has played a major part in the establishment and development of telecommunications around the world.
In 1869, John Pender formed his first telegraph company, the Falmouth Gibraltar and Malta, with the aim of completing the cable chain connecting India to England with cables via Gibraltar and Portugal. The company name was somewhat misleading as although Pender intended the cable to land at Falmouth, the final landing point was the more westerly Porthcurno, near Land's End.
The completion of this cable in 1870 was the final link in the London to Bombay line. In 1872, this was one of the companies merged to form the Eastern Telegraph Company
Another company which merged to form the Eastern Telegraph Company was the Anglo-Mediterranean Telegraph Company which was formed in 1868 and laid the first direct cable from Malta to Alexandria. This cable was to become the central link in the system linking Britain and India.
Established in 1872, the Eastern Telegraph Company was an amalgamation of a number of important smaller telegraph companies.
The company developed a huge network of telegraphs by creating new routes and doubling and even trebling cables on busy existing routes. In the early years of the 20th century, the Eastern became part of the Eastern and Associated Telegraph Companies which incorporated many other telegraph companies from all around the world.
In 1934, Imperial and International Communications, formerly the Eastern Telegraph Company, became Cable & Wireless. The new name was designed to more clearly reflect the combined radio and cable services which it offered, without reference to the Empire.
Since that time the company has seen many changes in communications technology. The name 'Cable & Wireless' continues to be relevant today as both cable and radio (wireless) communications are more closely integrated than ever in the provision of comprehensive communications systems.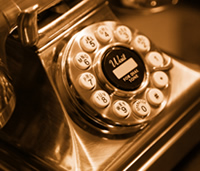 We have a fantastic selection of memorable gold numbers including 03, 0345, 0370, 0800, 0844 and more.
Try our Number Translation Services
Our Networks
Please Note - To ensure ITC provide our valued customers with the highest levels of service our minimum call threshold per client is 5,000 call minutes per month.