Call Gapping
What is Call Gapping?
Call Gapping is a procedure used by service providers to increase the connection time of calls. Call gapping is used to give network switching platforms additional time to direct phone calls when they are in danger of being overwhelmed by peaks in call traffic.
Call gapping is used by all of the UK telephone networks to protect their networks being inundated with calls. Call gapping prevents calls going into the network and is carried out at a local exchange level; the caller will hear a pre-recorded announcement and be urged to try again later. It is a valuable technique used to allow the network to function and can be visualised as a turnstile, allowing calls to enter the network at a controlled rate: so many calls per time period, with the rest being denied access, i.e. a busy signal.
It is used to slow the switching platforms down and is most effective if all the networks do it, as calls often travel over several networks before reaching its final destination.
If you would like one of our telecommunications consultants to contact you for further advice, please email contact@it-cts.com with your details.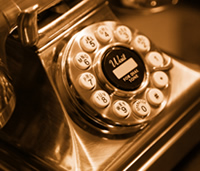 We have a fantastic selection of memorable gold numbers including 03, 0345, 0370, 0800, 0844 and more.
Try our Number Translation Services
Our Networks
Please Note - To ensure ITC provide our valued customers with the highest levels of service our minimum call threshold per client is 5,000 call minutes per month.